Boost Your Instagram Engagement with the Tailwind Hashtag Finder
This post may contain affiliate links, which means I earn a small commission if you purchase something I recommend- at no additional cost to you! As an Amazon Associate I earn from qualifying purchases. Thank you for supporting this blog! Full disclosure here.
Sharing is caring!
You probably already know about my obsession with Tailwind as my main Pinterest strategy, but I recently started using Tailwind to schedule my Instagram posts as well.
I usually only post once a day to Instagram, and sometimes only a few times a week, so scheduling has never been a huge need for me.
However, I have always struggled with organic engagement and growth on Instagram, so I decided to test out scheduling in Tailwind and use the suggested time slots in order to post at more optimized times.

Even if I don't want to schedule my post that day, I love to go into Tailwind and create a draft specifically to use the Hashtag finder.
Hashtags are a huge part of every Instagram users growth strategy.
I always try to use all 30 of the allowed hashtags, but sometimes I get lazy or just end up using the same ones over and over again.
The new and improved hashtag finder for Tailwind takes the guess work out of finding the best hashtags for your post.
I love that Tailwind gives you a color coded system to show you which are the most relevant, most popular, and most competitive hashtags in your niche.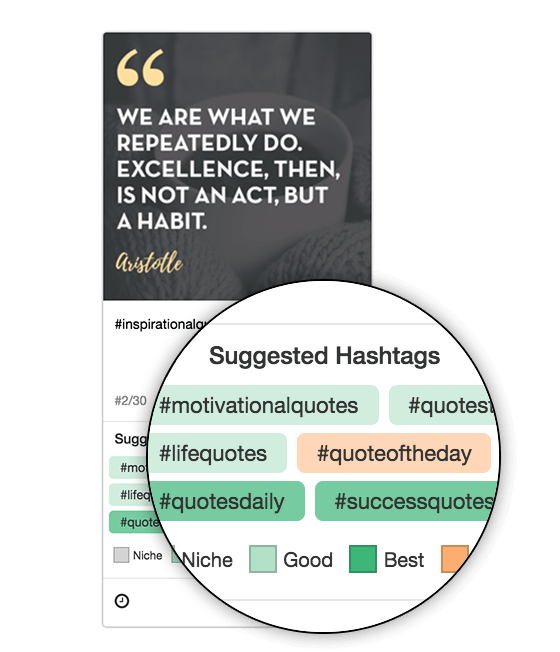 There is no need to research popular hashtags for hours.
With Tailwind, you can upload your post, write a description, and start clicking away at the suggested hashtags.
You can also save hashtag lists to use later, if you find a particular combination that gives you a sudden engagement and follower boost.
I'm so glad I decided to test this little tool, because since I started using it a little over a week ago, I am already up 600 real, engaged followers!
I usually don't see that big of a boost in such a short time period.  Of course, these are my personal results.  If you would like to know more about the average growth rate for Tailwind members, check out the Typical Results of Tailwind for Instagram Members which is updated each year.
Here are the highlights of the newest updates for the Tailwind Hashtag Finder.
You will get a fresh selection of hashtags for every post, every time. No need to worry about looking like a spammer with a fresh set of hashtags at your fingertips.
Hashtag suggestions now appear and refresh as you type, whether you include hashtags or not! This is an easy way to find new hashtags that you may have never thought of before.
Find even more hashtags by shuffling them or quickly dismissing the ones that aren't quite right. Help Tailwind help you, by deleting the hashtags that are totally unrelated to your post.
Hover over any hashtag to see how popular it is so you can quickly pick the best ones for you. Avoid using super generic or crazy saturated hashtags by evaluating the popularity for the hashtags in your niche.
Here is a quick and easy video tutorial, to show you exactly how to use the Tailwind Hashtag Finder Tool.
How to Use Tailwind Hashtag Finder Tool from Shannon Cairns on Vimeo.
Try Tailwind's Instagram hashtag finder for FREE, and start boosting your organic Instagram growth faster than ever before!
You can head here to sign up for your free trial.
You best be you using Tailwind for your Pinterest strategy too!
Head here to find out how to automate your traffic and sales with Tailwind's Pinterest approved scheduling tool, and don't forget to sign up for my FREE 5 Day Pinterest for Business Challenge!
---